Product introduction
The DHT type electric chain hoist can be installed on the hanging I-beam, the curved guide rail and the fixed lifting weight. It can also be mounted on the guide rail of the cantilever crane to lift the workpiece and fixture and other heavy objects.

DHT chain electric hoist advantages:

First, the electric chain hoist electric hoist and chain hoist have the advantages of the body, using disc brake motor for power.

Second, the planetary reducer decelerates, has a compact structure, small size, light weight, high efficiency and convenient use.

Third, the brake is reliable, and the maintenance is simple. Suitable for low-speed small-stroke material handling, equipment installation, mining and engineering construction.

Applications:

DHT type electric chain hoist is a small lifting equipment, widely used in industrial and mining enterprises, warehouses, commercial, medical and catering services.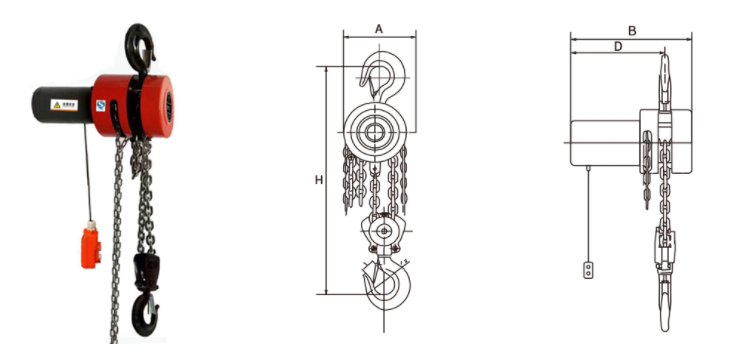 Product parameters
model

DH-01

DH-02

DH-03

DH-05

Lifting weight (t)

1

2

3

5

Test load (t)

1.5

2.5

3.6

6.5

Applicable voltage (v)

380

Chain back

1

2

2

2

Chain diameter (mm)

6

6

8

10

Lifting height (m)

3/6

3/6

3/6

3/6

Lifting speed (m/min)

2

1



Note: please call 400-693-1966 or 159-2173-5568 or 135-8570-7531 for detailed parameters.