Product introduction
1. Small and lightweight, safe and reliable: Since its launch, Hitachi's electric chain hoist has been more than 20 years old, with rich experience and high technical level, and is well received by users.

2. Excellent wear-resisting load-bearing chain: The most important part of the load-bearing chain for safety is the tough, reliable and wear-resistant strong chain developed by Hitachi.

3. Electromagnetic brake has a long service life: The brake for supporting load adopts the disc type electromagnetic brake developed by Hitachi, and the service life can reach more than 1 million times.

4. Use low-voltage design, just in case: Considering the 10,000-leakage accident, the operating voltage of the finger-touch button switch is designed to 24V low voltage.

5. Operational integral button cable: The cable with integral and reliable protection wire is easy to use and does not hinder the operation of the machine. Reinforced plastic carrier chain storage container, strong and durable.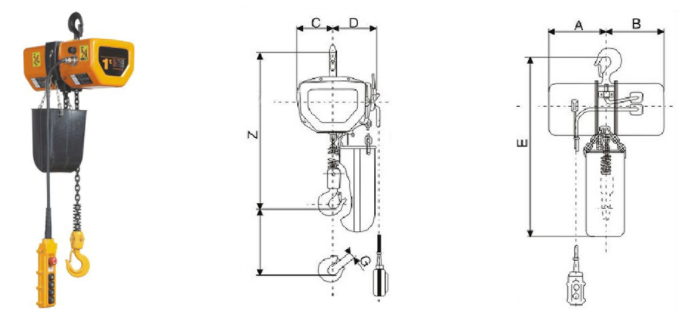 Product parameters
Hitachi electric hoist parameter table

model

Lifting capacity

Lifting height

Chain specification

Voltage

Motor Power

Lifting speed

weight

Sports car motor power

Applicable I-beam width

HHBD1-1

1t

4m

7.1mm

380v

1.1kw

4.6m/min

45kg

0.4kw

52-153mm

HHBD2-2

2t

4m

7.1mm

380v

1.1kw

2.3m/min

55kg

0.4kw

82-178mm

HHBD3-3

3t

4m

7.1mm

380v

1.1kw

1.6m/min

78kg

0.4kw

100-178mm

HHBD15-5

5t

4m

7.1mm

380v

1.1kw

0.9m/min

118kg

0.75kw

100-178mm
Note: please call 400-693-1966 or 159-2173-5568 or 135-8570-7531 for detailed parameters.